Two and a half years ago I decided to explore Theo Moorman's weaving technique. I have done double weave before and long wanted to try the imagemaking possibilities of this method. It is basically a double weave—one fine warp is used to tie down a supplementary weft. Being fine it does not show and is also integrated into the thicker main warp of the background. I sent away to Halcyon Yarns in Maine for my yarns. Green for the main warp and black for the tie down warp. Purple and green were to work as the main weft and I did lots of experimenting with the image weft. The yarns arrived and I got busy winding the warp!
First the green warp through the front heddles and then the black through the back two. I used strings to keep my two warps separate as they went through the reed. A 12 dent reed with 3 ends per dent—one black and two green.
Finally all tied on and winding the bobbins. This is a hand bobbin winder that belonged to my grandmother's cousin. I was given her counterbalance loom which is currently in my attic.
For additional weft I also used some pine needles from walks in the Wissahickon, some sticks that I soaked, shredded, and dyed with rusty bits. I used some yarn that tied up lunch from my trip with the Garden gals… This warp turned into a journal of my life during this time.
And I did The Moorman Technique with it's ability to make wonderful densities of design. A square within a square. Towards the end there were squares – positive squares, negative squares, heavy squares, delicate squares, squares with stripes…and then I ran out of warp!
My "Stitches not Words" project uses squares and lots of squares appeared here. One early bit of weaving that was removed to adjust the warp didn't have squares but it ended up in a rusty bit dye pot with stitched bits on it! It has since become a work on it's own titled "Liar, Liar".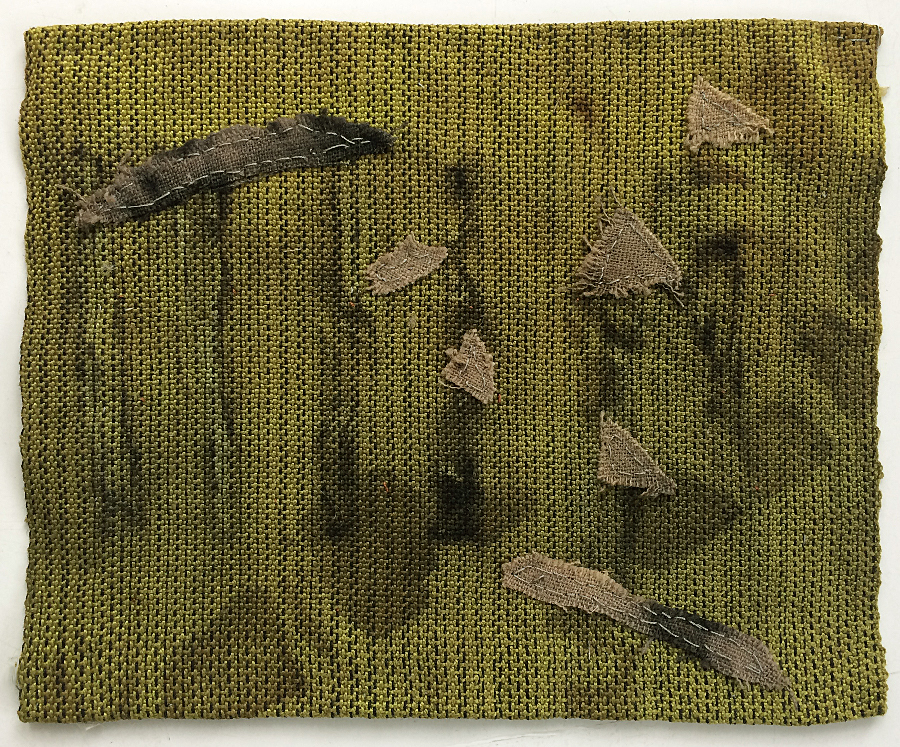 "Stitches not Words!"