Been taking pictures of carved sheep and such lately and thought I'd dedicate a page to them.
---
Oct 29, 2012
This is Good. Philadelphia Inquirer article.
MADRID – Spanish shepherds led a flock of more than 2,000 sheep through central Madrid on Sunday in defense of ancient grazing, migration and droving rights threatened by urban sprawl and modern agricultural practices.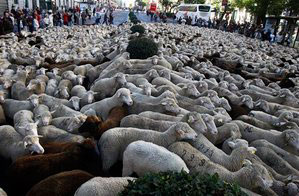 ---
Sept 23, 2012
"Henry Moore in a Sheep Meadow" by Red Grooms, 2000, cast Bronze. This sculpture is in The Grounds for Sculpture in NJ. I have a post of Henry Moore's Sheep Sketchbook here.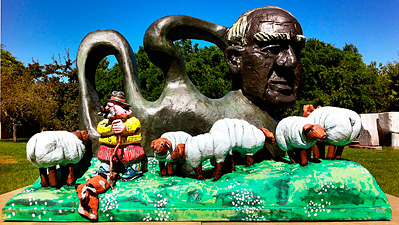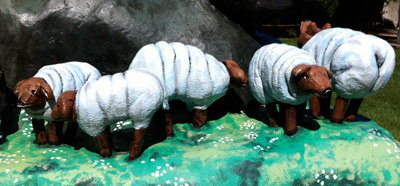 detail of sheep
---
Sept 21, 2012
These Grazing "Cotswald Sheep" are by sculpture Charles Layland. They "live" in the sheep meadow at Morris Aboretum.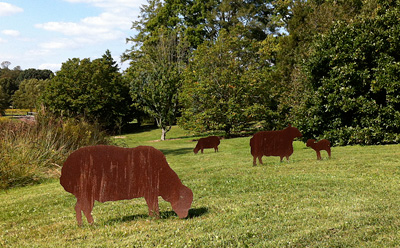 ---
July 22, 2012
Since I like sheep, people give me sheep including these two.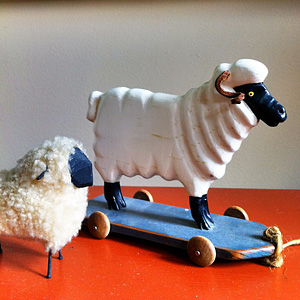 ---
The first was taken last year at Bartram's Garden in Philadelphia and the second this year at Nemours in DE
The third is a small metal piece that might be a finial or handle. It is about 4″ tall and has a place for a screw about 3/8th wide in the base. Sort of a Janus, the Roman two headed god who looks forwards and backwards. January looks to the last year and forwards to the new.