About Me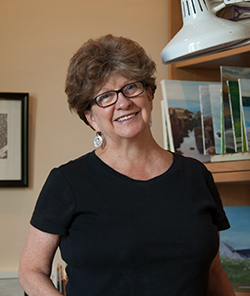 Beth Emmott
I am an artist/designer working in Philadelphia, PA. After graduating from Moore College of Art and working for a local advertising photographer, I opened a photography/design studio with my partner and husband, Bob Emmott. (You can see the many iterations of our studio at emmott.com/about/history.php.) When computers came along, I designed web sites and taught college textile and fashion design students Photoshop and Illustrator as well as graphic design, color theory and drawing courses at Moore College of Art and Design and at Philadelphia College of Textiles and Science, now Jefferson University.
At the same time, I worked as a costume historian and as a fiber artist, dyeing, spinning and weaving my own fibers and yarns. It was all about color and texture and was a wonderful balance to the tech world of web design.
I love drawing, painting, printmaking and fiber. My graduate degree is in Illustration from Syracuse University, and a perfect vacation for me is spent studying and exploring one or the other of these areas. I love learning new ways of looking at what I do. A number of years ago, I began to concentrate on painting, studying with local and national artists while continuing my work in fiber.
Work in a variety of disciplines keeps me fresh and each feeds the other. My work often explores the mystery of a moment in time—what has happened, what is happening and what is about to happen. What events have led up to that moment? I hope my work evokes these questions.
Recently I have been fascinated with time, nature and human intervention. Nature has, so far, renewed itself long after people and civilizations with our grand ideas have passed into history. We cannot exist without nature, but it can exist very well without us. I try to capture and share this sense of nature's strength, haunting timelessness, and beauty in my work.
Please enjoy my work and thoughts about my world, view our studio site at emmott.com and visit my shop page where I offer some of my surface designs for sale. If you are interested in purchasing and or commissioning other work, you may contact me at: beth@emmott.com
Other work:
Pumpkin Drawings: done one Oct. for two very special guys!
Past Holiday Cards: some people bake cookies, I make cards.