Didn't have email before so this is a day late.
Yesterday, Saturday we headed west across the top of Co. Mayo. The whole area is one huge blanket bog. We visited Ceide Fields which was first discovered in the 1930's but not really begun to be understood until decades later in the 70's. It is a large (10 sq kilometers) area of farmland and living areas dating from 3-4000 BC which has been buried and preserved under the bog all that time. Blows the mind!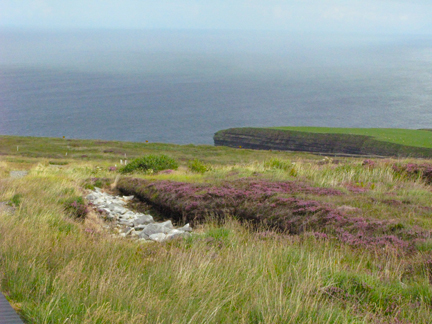 Neolithic stone walls at Ceide Fields
Then on to Achill Island on the west coast. Pretty much a touristy, holiday resort in a very dramatic place full of cliffs and mountains and ocean beaches! We drove along very high mountain roads where the side dropped down to the ocean and sheep wandered all over the place. On the hills, on the road, eating, watching us, and sometimes running along. Usually they just look at cars and move to the side of the road, pretending we don't exist.
On the way back we stopped at the Deserted village in Slievemore, a village of 80 – 100 stone houses which was abandoned during the Great famine. it is a very sobering experience. And full of sheep.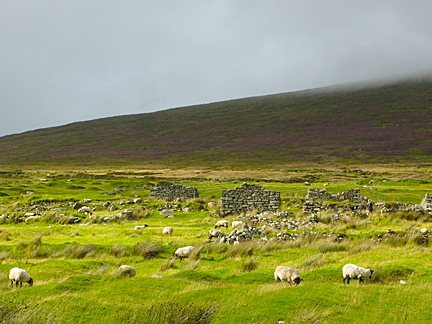 Sheep at the Deserted Village
Then back to Ballycastle for our last evening of peat fire and red wine!