This morning we woke to a bright sunny day and as we were getting breakfast, it began to rain with the sun out—sure enough my first Irish Rainbow—right over our cottage!
Irish Rainbow
I don't have internet access where I'm living so these posts may be a day late.
YESTERDAY
Lots of driving through a incredible country side—The Connemara, on the west coast of Ireland. Hedges 10 feet high of fuchsia, mountain sides glowing with golden Broom and purple Heather, orange flowers everywhere. )The roads are very narrow!
Left Clifden and drove the "Sky Road" which goes high in the hills overlooking Ballymakill Harbor and the Atlantic.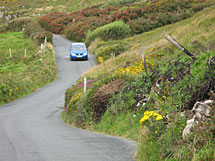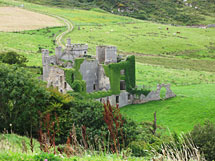 Very Narrow roads and even a castle!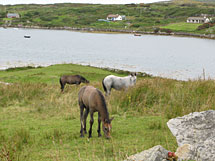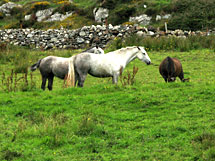 Lots of ponies—this is a great area for ponies!
There are a number of handcraft shops but most are pretty touristy, BUT, Cottage Handcrafts in Mayard, Co. Galway is far and above the others I saw.
Then back to the N59 through Letterfreck to Leenaun—more magic —lots of sheep, lots and lots and lots of sheep! At Leenaun we stopped at The Sheep and Wool Center where they had sheep shearing, spinning and weaving demos. I bought a small bag of fleece to spin when I get home. from a Manx Loaghtan, which is a rare four horned sheep – pretty natural tans and browns.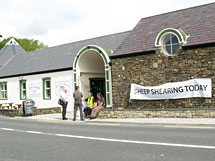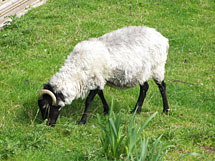 Lots of sheep—this is a great area for sheep!
By then we were running late and so we headed straight to Ballycastle with a quick stop in Westport to find a mac machine, get gas and call Ballinglen.
We met Una, who took us to our cottage, I unpacked while Bob drove back to Ballycastle to get supplies for supper. He went to Polk's which has everything. It's a grocery store and bar combo and meets most basic needs. he came back with wine, pork chops, carrots and parsnips, and, my mother will be pleased, Irish potatoes. We feasted by candle light, looking out over fuchsia hedges, past fields with cows grazing to the North Atlantic!