I was tearing some large sheets of Arches 300 lb. watercolor paper to work with next week and remembered a little sketch book I made with that paper several years ago. It's a simple accordion structure and I wanted to have it to sketch things in my garden. Wanted heavy paper so I could work on both sides of the accordion pages. I hadn't worked with paper that heavy and my watercolor didn't take to the paper very well. It made an interesting texture but wouldn't do what I wanted. I was busy and set it aside.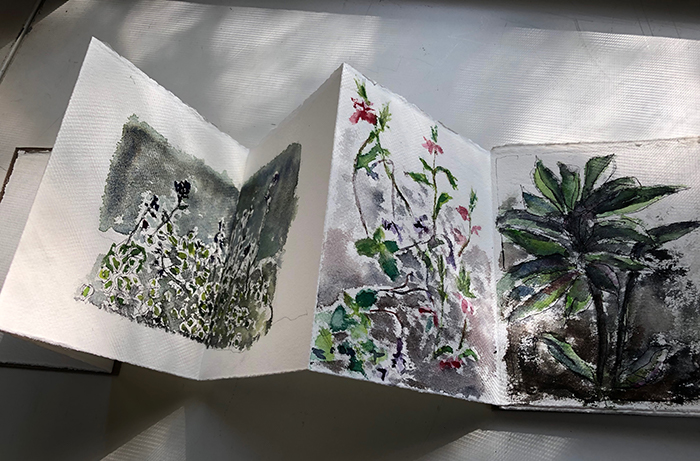 Today I remembered reading (John Pike's book, "Watercolor" that had belonged to my mom) about heavy watercolor paper having a sizing on it that might be washed off, so… I washed my paper. Just a simple run through with slightly warm water and then gently sponged off with a clean soft sponge. When the water first hit the paper it beaded up like crazy but after the sponging, nothing! No rubbing or soaking, just a gentle sponging to remove the excess water. Then laid on paper towels to dry.
Also did a quick test strip—just rinsed and sponged half the strip. When dry I took a brush full of watercolor and swooshed over both washed and unwashed areas. On the blue sample I also did a dab of color on each side.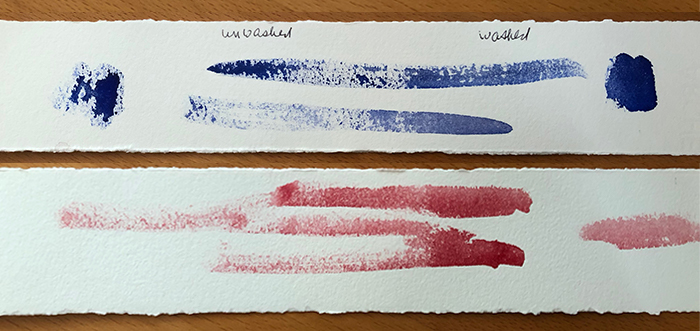 Mystery solved! Now I need to rinse my book without making a mess or messing up the existing sketches. A job for another day. But I did wash my prepared papers today!
Thought I'd share this as others might run into the same thing. I've studied watercolor formally years ago in school but then I used lighter weight paper that I stretched on a board. Since then I've used water color blocks of about 140 lbs. as I mostly take them for quick sketching. Other than my early work I've been mainly self taught in this media and missed this bit of the watercolor world! Always something…