When we were in Ireland this summer I bought a pare of mitts – sort of like gloves without fingers. They are of very soft wool and have become one of my favorite things!
Even if the room is comfortable – well comfortable with a sweater, or comfortable if you are moving around, the desk where I have my computer keyboard is still pretty chilly. I spend hours at the computer and my wrists get cold. But not with my Irish Mitts.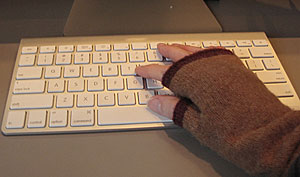 Warm Wrists!
The tag reeds: "Fsherman – out of Ireland" with the she in red – I guess Irish women get cold wrists too – I'm part Irish-perhaps that's where I get them (cold wrists)!
What ever the reason, I love my Irish Mitts!