ATA ( American Tapestry Alliance) had an interesting event last week. A Blog Tour! Over a period of days we were invited to visit a selection of artist blogs (and one Instagram video) where posts were posted for the event. It was very fun, informative and inspirational! If you left a comment, posted an image and/or entered their small tapestry exhibition you were eligible to win a prize.
I commented, posted and entered and won a prize!!! A goodie bag from Halycon Yarn in Maine. I have purchased yarn from them in the past and visited them this summer with Holly. Can't wait to see what's in it. Not only that, my post (an image of my sketchbook with designs for my "She Howled at the Moon" tapestry) was used in the final days to promote the event. I'm taking both of these events as signs from the universe that I may be on a right tract…. Always looking for signs—don't know if that good or bad but I do it! So, I'm currently a happy camper.
With all this said, now I have to get my act together and design and weave a small tapestry. Would like to use my 6 dent Hokett at 12 epi, but waiting for warp, so… I might use my 8epi or… and here's the big OR… Years ago (years and years) Bob made me a beautiful tapestry loom and I have never even warped it as my life took different twists and turns. It's time for it to stop being Decorative.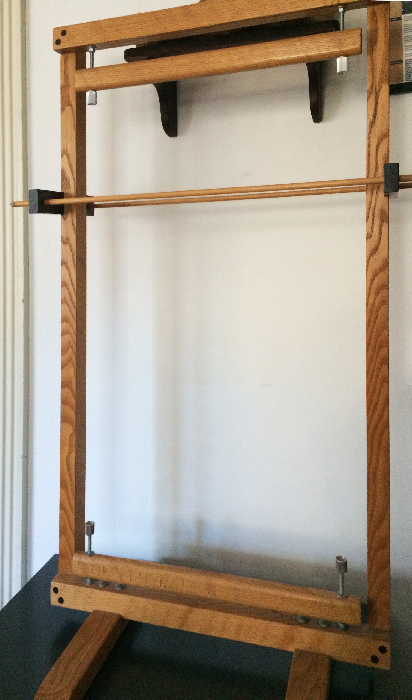 So, I'm researching how to warp this loom, checking my warps, and thinking how much I can accomplish before March. Might also warp up the 8 epi Hokett just in case! Then working on my designs.
At the same time I've had some thoughts on combining my stitching with my poetry, but that's a post for another day!