After Connecticut we drove to Maine where we stayed with Margie and Joe in their wonderful home where guest rooms are private apartments, the food and conversation are wonderful and their garden is perfect for both human folk and VERY large doggie folk.
Bob visited with Joe at work and photographed along the coast while Margie and I headed north to meet Sally and Pam at the Maine Botanical Gardens for this years Garden Hoax. Words don't do justice. It was misty (as all our garden events seem to be) giving the garden an ethereal feeling. We've been to lots of terrific gardens but this was different. It was a Maine Botanical garden. Where elsewhere beautiful flowers are planted to create vistas and swathes of color and texture, here the texture is of Maine. It is a garden in a forest.
Pam and I are in the rain in this pic Margie took
and House in the children's garden with a cat fence!
Back to Margie and Joe's for a bowl of home made chowder (what else) and the next day Bob and I headed north to Waldoboro where we stayed at the Blue Skye Inn, visited Pam and David, and ate Ginger Ice Cream in Thomaston (my mother has always raved of the Ginger Ice cream she ate in Thomaston, ME as a child in the 1920's).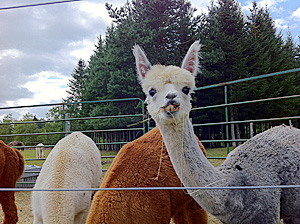 Alpaca
Bought alpaca from an Alpaca farm to card with some wool I have for spinning—this winter's stress reducing project! and then home driving in one of this summer's wild rain extravaganzas.
Short and sweet and lots of fun!