Since I couldn't visit anyone we had planned to on our way home from PEI (due to my cold and barking like a seal—no offence seals) we decided to visit the Coastal Maine Botanical Garden. I'd been there once before on a trip with my garden gals but Bob hadn't.
It's one of my favorite gardens—a wonderful garden in the first place but designed so it can only exist in Maine. I don't remember seeing the Fairy Village when we were there before, I don't think we went that far on the path along the shore. It's a place under the pine trees where people esp children but not only children have built tiny dwellings out of found forest material.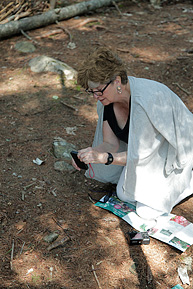 shooting with my iPhone.
The light was bad for photographs under the trees with shafts of sunlight and I mainly had my cell phone with me but I had to take some shots.
These are only four of many, many, many little magical structures.
Wounderful Wee Worlds.
The first time I ever saw a fairy garden was years ago in Nova Scotia.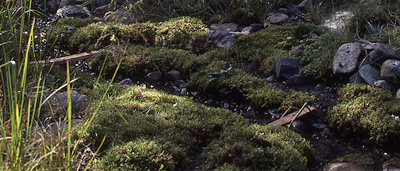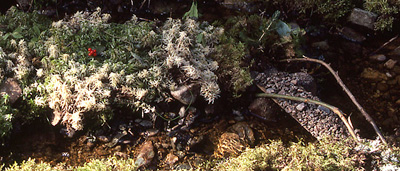 We didn't have reservations and were realizing that places to stay were few. We stopped at Liscombe Lodge late in the evening and they had just had a cancellation. We were tired, grabbed a bite to eat and fell asleep. In the morning we discovered a series of Fairy Bridges over the stream we had to cross to reach our cottage.
The next fairy village was an exhibit titled, "Enchantment at the Edge of the Woods", at Wave Hill Garden in the Bronx, NY. We went to see the wonderful work ("Charion") on display by sculptor, Helene Brandt. Another artist had contributed a large fairy village to the exhibit.
Since then Fairy Villages seem to be popping up everywhere with every garden shop selling props made in China. BUT… the best it seems to me are the ones made on the spot using found materials and the one in Maine is wonderfully organic and magical.