I like sketching with pen and ink but taking a bottle of ink on location is a bit daunting so I'm exploring fountain pens. I've also been trying out a water brush and am working with the two together. First I drew some supplies on my desk – next some small bottles of nail polish I was about to throw out – (have decided I really only like natural colors – so out with the reds, the greens and the blues…)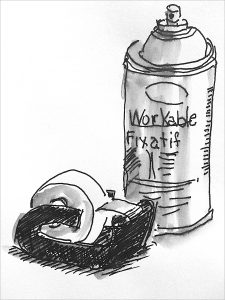 Quick sketches of things on my table
Tried it out on people sketching and buildings outside. All were very quick sketches – each perhaps five minutes at most (house a bit more…but just a bit).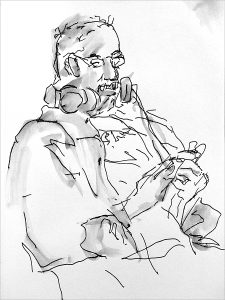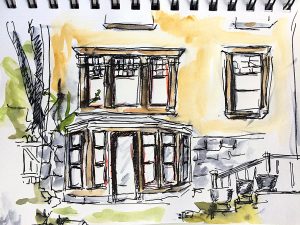 Quick sketch of Bob on phone and of the Back of my house
This is very fun and I like not worrying about spilling ink but I'm going to look for a pen that gives even more of a thick/thin line.