I don't like getting new glasses
First I have to go to the Ophthalmologist to be tested. I went last year and was given prescriptions for two glasses; bifocals (I've worn them since college) and computer glasses (I work on very large screens and bifocals aren't the best.) I did get the computer glasses but never got around to the others, so this year I had to fess up and get new prescriptions.
You sit there and are asked "does this look better than this" over and over and I can't tell! And I know I will have to live with my decision for a year—well they will do a re exam if asked but then it's the same thing again… But I went and got my new prescriptions and took them clutched in my hand down the street to a store with many many glasses. Again, how can I tell how they look… I can't see with out the correct lenses—so I make the best guess I can. The glasses came a week ago and I do like them (very much) but the reading prescription had me reading six inches from my nose and the the bifocal was too low.
Sooooo, back to the Dr. for a new prescription and back to the store for new lenses where I asked about progressive lenses. That would allow for a smooth transition from reading to far vision. This sounded good for drawing as well as teaching. I picked up the new progressive glasses yesterday and am trying to get used to them. I'll let you know…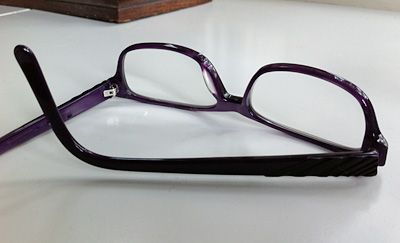 New glasses with progressive lenses.