Yesterday I went to an Obama rally in Vernon Park here in Germantown, PA. Our friends, Ilene and Robert and Jane and Drew drove to our house and we walked over. We were in a half to three quarter mile long line. (The people who got up front went at 7:00, we went at 10:30.) We were lucky to get into the park before Obama finished speaking but even the line itself was wonderful. So many people of all types—ages, races, shapes and sizes—all smiling and being together.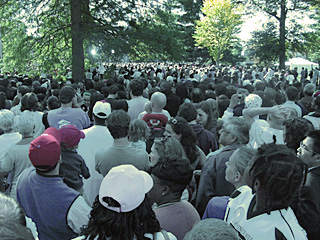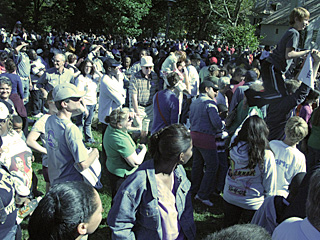 The line snaked up and down tiny streets in Germantown—some home owners sticking their heads out wondering what was going on and others placing speakers with music outside for the folk in line. It felt like one big party.
Afterward we went to Cafette, a wonderful restaurant in Chestnut Hill for lunch—it was a sparkling sunny day so we ate outside—many people at the café had their rally "Germantown for Obama" stickers on—we bought cookies to take back to Ilene and Robert's house and ate on their deck not wanting the beautiful day to end.