Took a poetry workshop this past weekend at Woodmere Art Museum with Ursula Rucker.
Never studied writing or poetry (since high school and…) and want to incorporate words in my work, this sounded interesting as a good place to start—and it was! Small group—5 plus Ursula. We listened to music and just wrote what came to us…several of the women had written poems before and their work off the top of their head was so strong. Mine responded to the rhythm of the music and perhaps where my life is right now.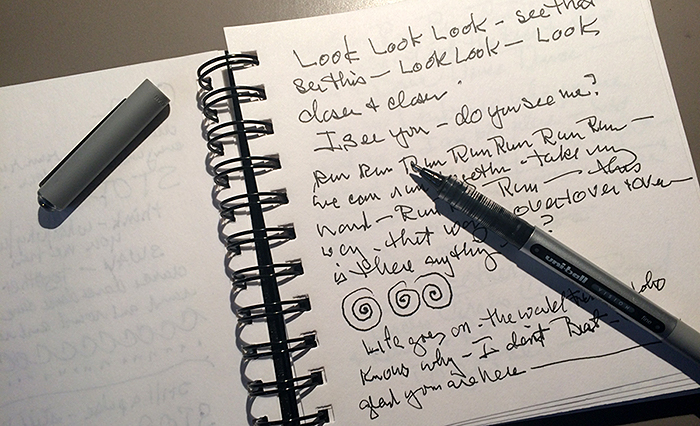 WE CAN DO THIS …
Run, Run, Run, Run, Run, Run;
Everywhere — up/down, here/there;
STOP!
Think—what/why/when,
You/me/them/us/all;
Sway—
TOGETHER
Dance, Dance, Dance, Dance, Dance, Dance,
Round and round and round and round.
Still a pluse—still hanging on
STOP!
Then start again
Look, Look, Look;
See that, see this -Look, look – LOOK
Closer and closer
I see you. Do you see me?
Run, Run, Run, Run, Run, Run;
We can run
TOGETHER;
Take my hand—Run, Run, Run;
This way, that way—over and over and over;
Is there anything else?
Life goes on —the world still turns – who knows why
I don't. BUT, I'm glad you're here!
Run, Run, Run, Run, Run, Run;
Together, step outside the race,
Slow down and Dance, Dance, Dance!
Joy in darkness when you are with me—I am not alone—hold my hand—in the dark/in the light;
I am strong —you are too —we are strong—all are strong —we can do this
TOGETHER
Circles, Circles, Circles – Round and Round and Round—all of us
TOGETHER
Night/Day, Night/Day—Work/Play, Work,/Play
Sleep/Love, Sleep/Love —Think/Feel, Think/Feel
All of it—LIFE
Run, Run, Run, Run, Run, Run;
In this world and the next
Run, Run, Run, Run, REST/Enjoy—REST/Enjoy
Run, Run, Run, Run, Run, Run;
All the world —TOGETHER!
Needs work but I had fun. Thanks, Ursula, for opening a door!