Back from a most fantastic print workshop. It was in northern Finland, taught by Shelley Thorstensen of Printmakers Open Forum in PA and Juha Laasko and Raija Korppila of Grafiikanpaja Aava. I learned so much and am happy with the work I did in the time I had.

Quite a group —in front of the print shop
I met many great new friends and we were so welcomed by the townspeople—from bringing us special local meals to arranging a tour of the old part of the nearby town of Raahe and even a performance by The Georgies.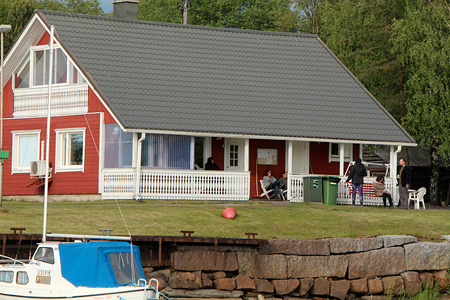 Our cottage on the Bay of Bothnia near the Arctic Circle
Most of us stayed in a little red cottage right on the Gulf of Bothnia. It had a sauna and Max made us wonderful meals. It was a short walk up a hill and across some train tracks, past an old boat named Miina, to the edge of the town of Lapaluoto and the magical print shop of Grafiikanpaja Aava—House of Printmaking.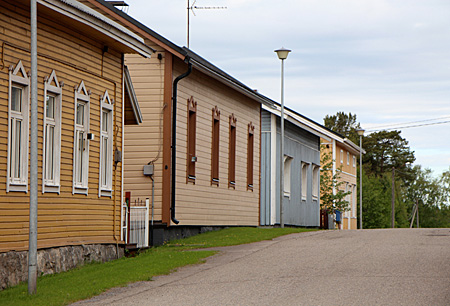 Houses are painted the most wonderful colors.
Designed for two printmakers, Raija and Juha, it managed to accommodate 9 students and 3 instructors all working on different projects—preparing plates, exposing film, inking plates, and printing work. We worked from 9:00 in the morning to late at night (the sun doesn't set in this part of Finland at this time of year).

This press was very busy this week!
We only had internet connection at the print shop so each morning we would arrive early and sit outside at our own internet cafe connecting with the world. Facebook friends were probably sick of hearing about our trip but we were on such a high we couldn't help our selves.
I concentrated on learning photo etching using ImagOn, a non toxic method and feel I got 4 good prints, each with an small edition of 2 or 3. (They can be seen on this site on the works on paper page.)
It was a long way to travel for a week long workshop but I would do it again in a second! In addition to my print work I have files of photographs and thoughts and ideas to keep me busy for a very long time. I worked so hard, was so encouraged, and returned with my head spinning.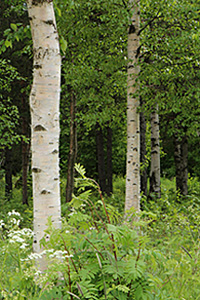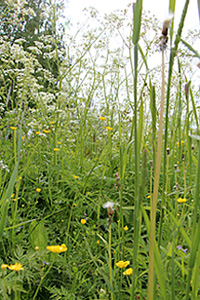 Trees and wildflowers across from the print shop
One of my favorite memories involved selecting the wet paper to print on. There is a long porch in front of the print shop and a table was set up to hold the paper which was weighted down and wrapped in plastic to keep it moist. I would be out side by myself, opening the pack and glance across the street where there were birch trees and wild flowers, lit by late afternoon sun—only it was late evening and realize, "OMG, I'm printing in Finland!"