Once again, it's been awhile. . . Yesterday I took a photograph of my little pea tripod—it's almost done for the year—to the right is a tomato plant which re seeded itself. Below it is a little cement bunny.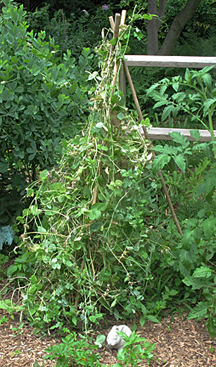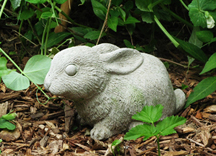 I have a love/hate thing about little cement critters. There is a garden stand in Lancaster called Hoover's which sells all sorts of cement garden things—they also sell good oatmeal/raisin cookies along with lots of plants. We always try to stop when we are in the area. They have lots and lots of cement garden things all over their parking lot. Over to the right are some tables with smaller pieces—bunnys, frogs, squirrels and . . . turtles.
First I bought a sheep and that's the sheep I photographed every day in spring of 2007. I also have a small gnome named Monty after the movie. He exists under a holly tree, covered with ivy.
I really don't like cement garden things—maybe a bird bath or so but little critters. . . So I hide them under bushes etc. I have this small bunny and a squirrel but I realize I've collected a lot of turtles—as things die down in the fall I find more and more. Perhaps I'll post some pictures of them—and come out of my cement critter closet.