Speaking of wetlands, choreographer, Jeanne Ruddy, created the dance, Oceans 1:Wetlands, out of her concern for the fate of the NJ Wetlands.

We did publicity photos for the season performance. It was Dec and the dancers were barefoot—boots and coats near by!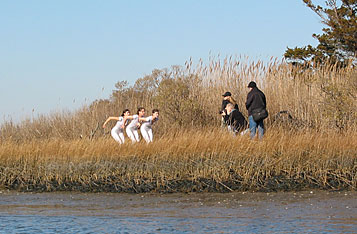 Photo shoot for Oceans1:Wetlands
Jeanne's company, Jeanne Ruddy Dance is based in Philadelphia. Their web site is ruddydance.org.